Using the Excel Application.InputBox method
This article discusses the use of the Excel Application.InputBox method. It showcases three common uses: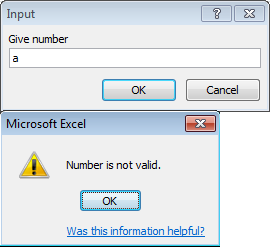 The Excel Application.InputBox method has some advantages over the VBA InputBox function:
It allows for input of different types than just text string and it validates the input is of the correct type (Type argument value is added in brackets):

number (1), text (2), boolean (4)
formula (0) or error value (16)

It allows you to select a range, or pick a value - or array of values - from a worksheet. Obviously an useful extension in the Excel context.
Note
If the user presses Cancel the value 'False' is returned. Your code should explicitly handle this. In case of Boolean (4) this is impossible to disciminate from the user entering 'False'. In case if number (1) using a Variant will allow you to see it is not the same as 0 - see example below.
Use the Code VBA add-in to insert InputBox code - image below - including the appropriate code block. The presence of the code in the tooltip makes it even easier.